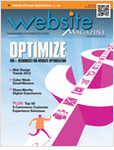 Until now, there has not been a magazine that caters exclusively to the business of running a website. Website Magazine has tapped premier talent in the Internet industry for our content and each and every issue will contain practical advice and insights for website owners.
Download Hundreds of Complimentary Industry Resources
Get hundreds of popular Industry magazines, white papers, webinars, podcasts, and more; all available at no cost to you. With more than 600 complimentary offers, you\'ll find plenty of titles to suit your professional interests and needs. Click Here and Sign up today!